Photo by Cog Magazine.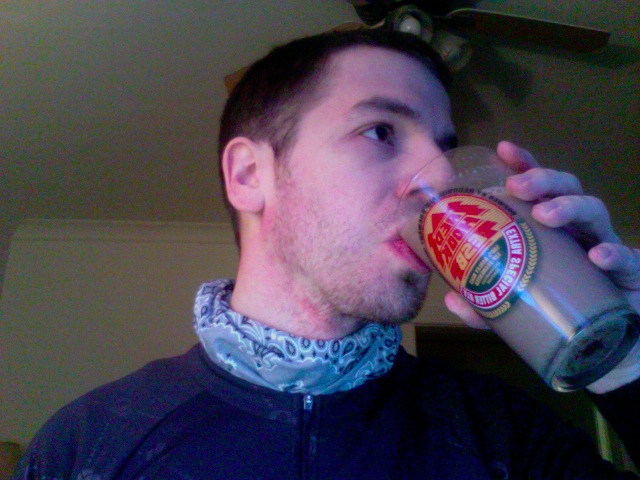 No credit necessary. Mmm chocolate milk.
Name: Sebastian Comella / Smash / Seabass
Age: 27
Location: Milwaukee, WI
Sign: Taurus
Disciplines/ Current Categories: Road (5)
Goals for the upcoming season: This is my first season, so I'm aiming to get enough races under my belt to upgrade to 4 and learn all I can in the process. I'm not too focused on results this year; rather, I just want to focus on identifying my interests, strengths and weaknesses and lay a great foundation for next season and beyond.
Why did you start racing? For me, it seemed like a natural progression. I love cycling for its own sake, and adding the element of competition just elevates that feeling. I really want to push myself mentally and physically and rack up some wins!
First Race Story: While not really a race, the first cycling event I trained for was the 50-mile version of the UPAF ride. I did the ride on a '79 Peugeot UO8 (a single speed conversion) while wearing jeans and a t-shirt. The bottom bracket gave out about a week after that ride.
1st Bicycle: I think it was a Huffy. The first one I remember details about was a Roadmaster mountain bike with black paint and bright orange decals. I rode it until the welds started cracking.
Current bikes: Colnago Dream, Jamis Sputnik, Panasonic Sport (bad weather bike), '84 Trek 520.
Favorite Bicycle story (Does not have to be related to racing): This is more like a favorite moment: borrowing a fixed gear road frame for a day to "give it a try." I had only ridden cheap mountain bikes up to that point, so the bike felt ridiculously light and fast. I was grinning ear to ear all day.
Bicycle superstitions: N/A
Dumbest thing you've done on a bike: I adjusted chain tension (poorly) on that Peugeot about 10 minutes before going on a long ride, and then I didn't bring any tools. I got about 15 miles out and dropped my chain on some train tracks. I think I dropped my chain about three more times on the ride back.
Special Talents? I'm pretty good at building websites.
Strengths: Time will tell, but I'll guess sprinting.
Weaknesses: Mounting tires. I need levers every time.
Final words of wisdom? Strength, speed and endurance are important, but don't forget flexibility. I'm pretty sure yoga helped me stave off a couple injuries over the last year alone.